ONE VEIL
May 01
Roasted Asparagus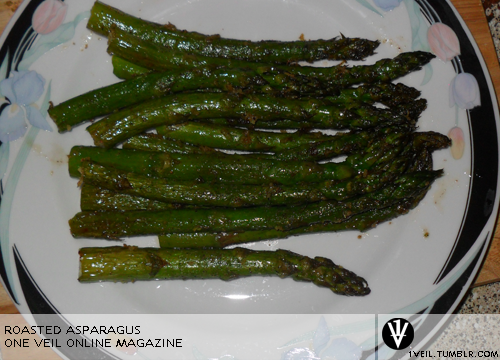 1 Pound Fresh Asparagus, 1 to 1 1/2 inches cut off the bottom
1 Tablespoon Olive Oil
1 Medium lemon, zested
1/2 teaspoon kosher salt(regular salt works too)
1/2 teaspoon freshly grated nutmeg(ground works too)
Freshly ground black pepper
Heat the oven to 500 degrees F
Lay the asparagus on a double layer of heavy-duty aluminum foil. Drizzle with the olive oil and toss to coat. Spread the spears into a single layer. Fold the edges of the foil to make a tray (you can put it on a cookie sheet if you need to). Roast in the oven for 5 minutes. Carefully toss the spears with tongs and roast just until tender and tips begin to turn brown, about 5 minutes more. Sprinkle with the zest, salt, nutmeg and pepper, to taste, and toss evenly. Transfer to a serving platter and serve immediately.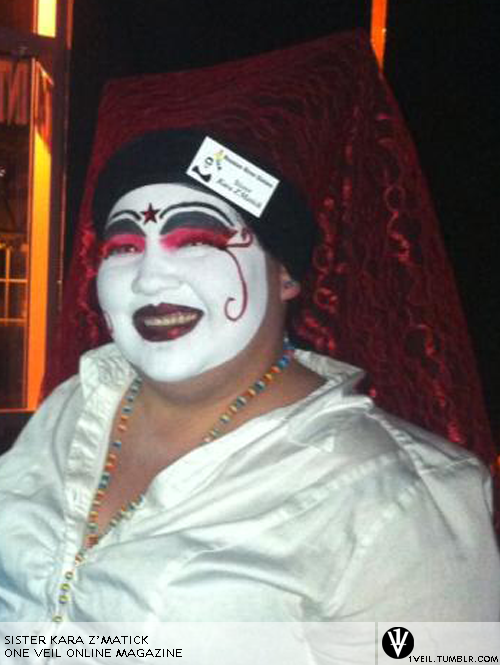 Hey all you shiny happy people!
So much going on, that I almost forgot to send in this article!
We've taken a couple different musical paths over the last few months, now we're back to a familiar road in the podcast section!
First up, is the "Tan Man" himself, Tony Moran!
I had the pleasure of opening for Tony at Portland's 2012 Pride Dance Party "Pulse".  Not only is he a super hunk of a man, he's so very super sweet and can mix that shit into orbit!
Tony is currently considered one of the most well-known DJs in the house/electronic music genre, playing to massive crowds at events throughout the world. He composes and remixes music and his own production pieces have been massive club hits such as "Put Your Hands Up", "Cafe Com Alegria" and remake of When In Rome's 1988 hit "The Promise" which features Tony singing the vocals.
His biggest hits have been in the remixes he has done.  He remixed and produced "Body to Body, Heart to Heart" for Cher's Living Proof album and was nominated for two Grammys for his production of Gloria Estefan's "Don't Let This Moment End" and "Heaven's What I Feel". Another major production was Donna Summer's "You're So Beautiful", which appeared on her greatest hits album entitled The Journey: The Very Best of Donna Summer. In December 2012, Tony also released another original production with the late Donna Summer entitled "Valley of the Moon" which was recorded at the same time as "You're So Beautiful". He has produced four dance hits for Deborah Cox: "Easy as Life", "House Is Not a Home", "Everybody Dance (Clap Your Hands)" and "Tenderness" and Kristine W's "Walk Away".
"Playing music that generates a feel-good energy is what I love about being a DJ/mix master," explains Tony. He eschews the strict underground house mentality preferred by many of his contemporaries and instead prefers to impart his remixes and productions with a hook-laden commercial appeal that is both radio friendly and dance floor-ready. Tony measures a successful dance floor with the number of hands in the air, and the number of people dancing and singing along.
Tony's latest podcast is a set mix from New Year's Eve, where he spun a classic set from the early to mid-1990's.  I can tell you, this is one hot diva laden set!  It took me back to the days building up to the time when I would start learning how to spin and made me miss the dramatic nuances of what would become a staple to the circuit scene.
Tony's podcast can be downloaded for free in the podcast section of iTunes or can be downloaded here: http://tonymoran.podomatic.com/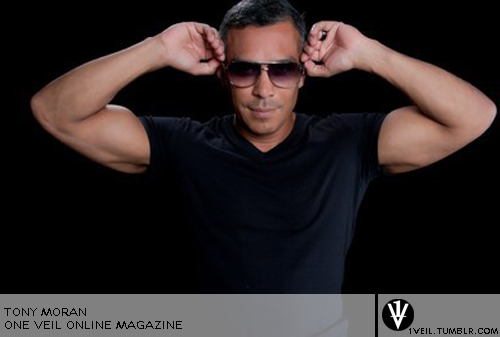 Let's continue our journey to another fabulous DJ who also is a remixer:  Abel Aguilera
Best known as one half of the DJ duo ROSABEL, Abel once called Ralphi Rosario a whore.  Which in turn, started a musical partnership.  He would leave Ralphi dirty messages on his voicemail. Aguilera says he would say things like "he's never home — that he's a whore, stuff like that."
As a solo artist, Abel has dominated as a DJ in the party scene for decades.  He's played practically every major gay party and club in the world.  As Rosabel, they have remixed everyone from Donna Summer to Cyndi Lauper, Rihanna to Gloria Estefan.  
Abel's podcast consist of fantastic afterhours rhythms and drums, but the one that really caught my ear, was his classic disco set "I love Disco" which celebrates his 35th year of being a DJ.  He starts off with some of his all-time favourite songs, from when he was growing up in NYC and learning to spin.  We are talking some serious legendary disco….. not your typical cookie cutter best of disco album.
Abel's podcast can be downloaded for free in the podcast section of iTunes or can be downloaded here: http://djabel-mia.podomatic.com/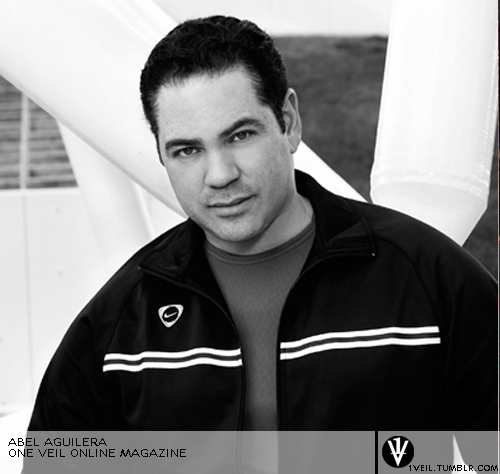 Speaking of super sets……  I'll be spinning at the Orlando Sisters Red Dress Party at Gay Days and then the next day DJ Harmonix will be spinning the afternoon Bears pool party at Gay Days ….. Wheeeee!!!!!!
That's all for now… Big glittery kisses to you all!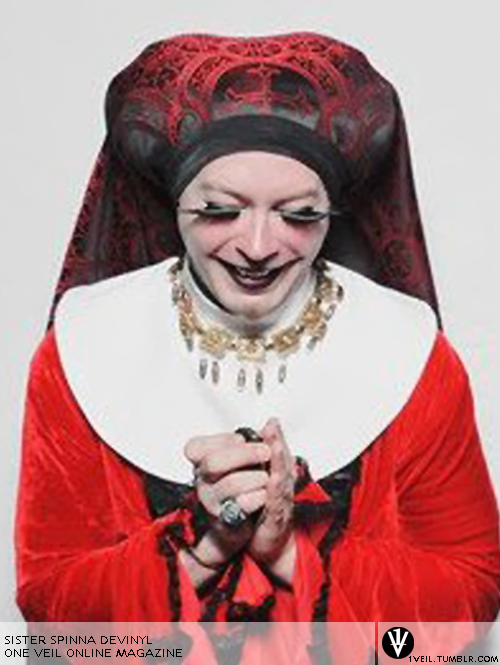 Mar 31
Greetings Sisters, Guards and Friends,
Happy Spring to you all! 
We are very excited to feature the Paris Order of Perpetual Indulgence this month.  With that, we would also like to thank Dragographie for the fabulous photo that was used for this month's cover of One Veil.  A very special thanks to Sister Nefertata who served as the liaison with the Paris Order and assisted greatly with the translation from French to English.
This is a very special time, as SPI celebrates 34 years in the habit.  One Veil is looking forward to the many pictures that will be posted from the celebration in San Francisco over the past weekend.
One Veil would love to wish a huge congratulations to the Abbey of the Windy City Sisters in Chicago for their recent Exequatur celebration, and another to the South Florida Sisters in Ft. Lauderdale for their upcoming celebration in April.  Both of these houses have worked extremely hard and we couldn't be happier that they are now fully professed.
Please forward any new ideas for future articles to us at One Veil; we're always interested in adding more variety to the publication.
In Love and Service,
Sister T'Keela Mockinburd And Sister Isadora Knocking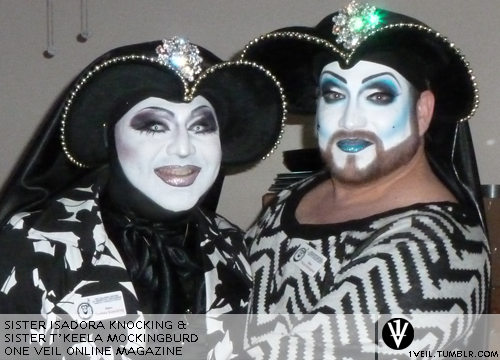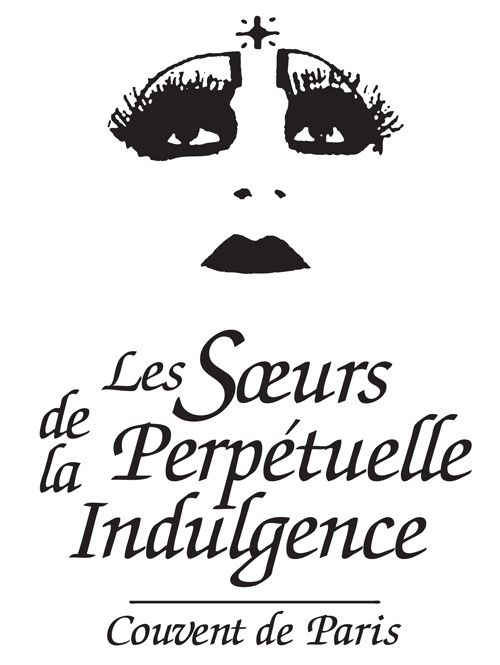 Paris house is the first convent opened in Europe in 1990, founders are still Arch-Mother Rita-du-Calvaire, Sister Marie-Mongolita, Sister Ginette & Sister Thérèse-du-cul-et-lard. Since 1991 Paris' house is the only convent that received the exequatur from Mother's house in Europe.
What is your full name and when did you become fully professed?
Sister Lysistrata, Onagata, Patsy Stone, protectrice des Ribaudes, Gourgandines et Marie-couche-toi-là, Es lectrice du passé dans les petits plus de l'anus (keeper of  Whore, Hussy and Marry-there) In-reader of the past in the small anus folds. I was fully professed on March 2008 
Who is, or who do you consider your Big Sister or Mother to be within the SPI organization?
Tough story, my first Mother in law had a personal hard time and disappeared from the order almost at the same time, Sr Lacrima took charge, forever grateful thus. But as a matter of fact, she wasn't involved that much in the house. Consequently and luckily I was raised by the entire house. My thanks are going, therefore, to the whole sister fellowship
How has the relationship with your Big Sister/Mother influenced your Sister journey
CF Supra, as a sisterhood all the convent was involved in my journey
How often does the Paris Convent have general membership meetings, and how long do they usually last? 
A monthly basis but, but we work a lot by email because a third of our members are living all over France; they last long on average 3 hours.
What do you find most challenging while chairing a GM meeting?
I'm a Sister like anyone else, chairing GM meeting is not a role devoted to the President. At each GM meeting a Sister is appointed to manage it and another one to keep record.
Since the day you joined SPI, what are the biggest changes that you've noticed or witnessed in both the organization and yourself?
The growth on our convent, from 15 to more than 30 members in few years, from a group of close friends to a group more heterogeneous.
On my side, I'm happily surprised on how deep my vows are influencing my daily life.
If you could change anything about your journey to full profession, what would that be and why?
Nothing my journey to fully professed makes me what I am and I'm still growing up and the journey's going on like our community.  Concerns are changing and so must I.
As the president of the Paris Convent, what are your expectations or goals of the house for 2013?
Along with our Mother superior, Sr. Ranya, to keep the convent focused on our missions.
We're doing a 4 days retreat in May with our elders in HIV fight and refund the money we've collected to several organizations.
What are you currently most excited about?
The future projects that are still unknown.
If you were asked to give advice to a mission house that was going through the process of becoming a fully professed house, what would that advice be?
Time is running fast but mother Earth is patient! To take all the time to build a strong Sisterhood, growing our number does not make us stronger nor more dedicated. Bonds within our convent is the most important thing.
What does being an SPI member mean to you, personally? 
Humility
In one word, give your description of the SPI organization.
Queer and democratic.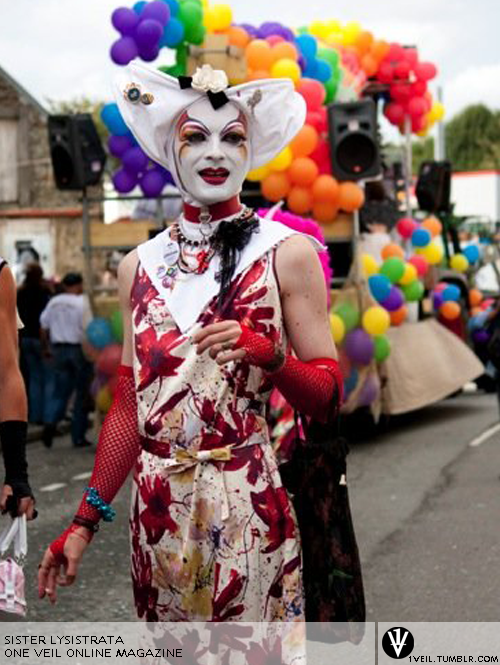 Please give me your Sister name.
My name is Ginette of the loose cow.

When and how did you first hear of The Sisters of Perpetual Indulgence organization? 
I heard about Sisters of Perpetual Indulgence when my best friend (the future mother of our order) sent me a letter in Nicaragua where I was living. In this letter, he was speaking about the American sisters and asking me if I was ok with doing something like them in France.
What about this organization caused you to want to be involved in founding an Order of SPI in Paris?   
I was angry. I was seeing friends of mine dying. They did not need my tears, they did need my strength and the Sisters seemed to be a good way to turn my anger into a positive feeling. I don't like stilettos, I don't like make up but I did my best and had a lot of fun mixed with a lot of emotions. Now, I fight to help heterosexuals to become less stupid and it is sometimes a hard work
What do you think was the most challenging part of beginning the process of founding the Paris Order?
I think it was easier to be a Sister 20 years before, than now.
Did the initial group of the Mission House encounter growing pains?  And what was learned from those pains?  
We were very close to death sometimes, but we always became reborn.
Being a founding member of your house, did you go through the process of first being a postulant or novice, or were you just considered a founding member and basically have the same rights as a fully professed sister?
I became Sister Ginette in a glance and did not have any (marraine).  I never felt the need of it. This can maybe explain why I never had postulant under my direct responsibility and never missed it.
How did the community react to the Sisters on the first manifestation in Paris?
Unfortunately, I was not in France for the first manifestation of our Order.
Did you find any challenges when dealing with the community for the first time? If so, what were the challenges?
Being a heterosexual woman, living far from Paris, it has been quite strange for me to become a Sister -acting with the homosexual community, but I think it has been even more strange for the community. It is still strange for some of them including, a few Sisters.
Now that your house has been established for quite some time, what is the biggest difference in your house now from when it was first founded (not speaking of the number of members, of course)? 
We started with 4 friends and with 3 sheets of fabric.  It was so easy, so quick to jump from the decision to action.  It is now quite harder to move, but I am older, too.
If you could go back to the days of the order's initial founding, what changes would you make, if any? 
Nothing. We did what we could, it was not enough, but it was something nobody else did.
What advice would you give to a newly formed Mission House or any group that is considering the possibility of starting a house?
Don't think about it, Just dive in and you will see that you can swim.
Do you have just as much excitement about being a Sister now, as you did when you were assisting with the founding of your Order?
As I said previously, I am older, but I am not less angry so I can find excitement in the Sister's actions. I am also very excited when I see a new Sisters growing and becoming "une grande dame"
In one word (and one word only) please describe the Sisters of Perpetual Indulgence  
Still there (unfortunately).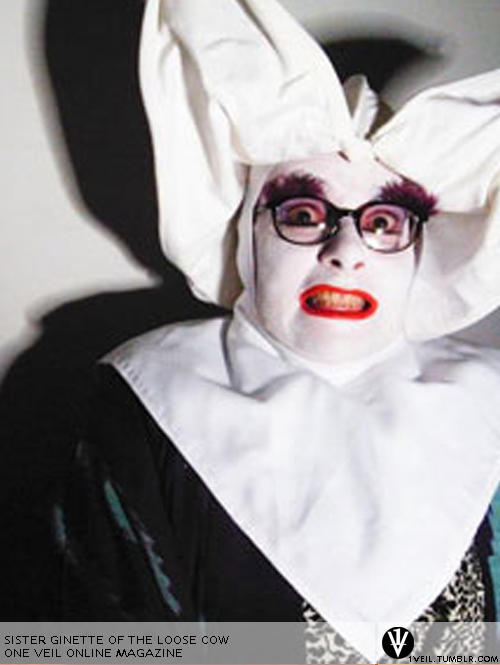 Could you please give me your name and tell me when you became a member of the The Paris Sisters of Perpetual Indulgence
I am Sister Bénédicta and I started my journey in the Convent of Paris in February 2011. I am a Sister since the Parisian Gay Pride in June 30th, 2012.
What level are you currently at in your journey?
I am currently working on the foundation of a convent in Switzerland with Sister Fatima.
What is the reason that you chose to become a Sister of Perpetual Indulgence?
Because this form of activism includes joy, politics, challenging the straight Catholic patriarchal model established as the norm, because it questions on gender and the role of women and because I recognized myself in our vows. The character makes a dialogue with our flock on issues regarding difficulties and questions that they may encounter in their lives.
Because self-deprecating humor is important in life to de-dramatize some situations, because I want to be crazy, to wear dresses and heels and because my background as a boy who became a militant implies that I could not be anything but a Sister.
What have you found to be most rewarding in this stage of your journey?
The feeling of being or having been useful to some people encountered during actions, in Paris, province or Switzerland. That we bring fear something is rewarding.
What have you found to be the most challenging part of this process?
There was a time when the late postulate, time seemed long because I wanted to move on and become a character, although the time of observation and questioning is important in the process of raising.
Who has been your biggest influence along your path and explain how that person has influenced you.
I do not think it been influenced by one or another of the Sisters of the Convent of Paris. For cons, I could draw resources in their follitude and activism.
Oops, but of course! At makeup with blue Ranya and Lysistrata taught me how to contour my eyes, Néfertata to shine my lips. And my godmother not hesitate to fondle boys! What a joy! And I also learned to read in the lines of the ass … Thanks, my sisters!
In a short paragraph, please describe your first night of manifestation.

It was wonderful. I hoped, I was waiting for my Novice elevation. One evening, my godmother asked me to sit down in front of her and my makeup stuff. Then I put on a beautiful dress in blue gingham too small for me, I pronounced my vows on the sidewalk and Benedicta was born!
Then it was a tour of bars and photos, very helpful and wonderful gifts, jewelry to be even more beautiful!

What are you currently most excited about?
I especially like when the boy I am takes off his clothes and puts on jewels.

Most Sisters experience, what we call, an "Ah-Ha" moment.  This is a moment where we realize that we are definitely where we need to be and that this path of Sisterhood is in alignment with who we are as a person.  Have you had that "Ah-Ha" moment yet, and if so, can you speak of it.
Every Gay Pride, I feel pride and joy. And then there are some denominations, some moments shared with our congregation that make me say that I am useful, even if I am an image, a moment in their lives.
There are also demanifest with my sisters, they are moments where we talk again some moments of action, or where we are stuffed and completely hysterical!