ONE VEIL
May 01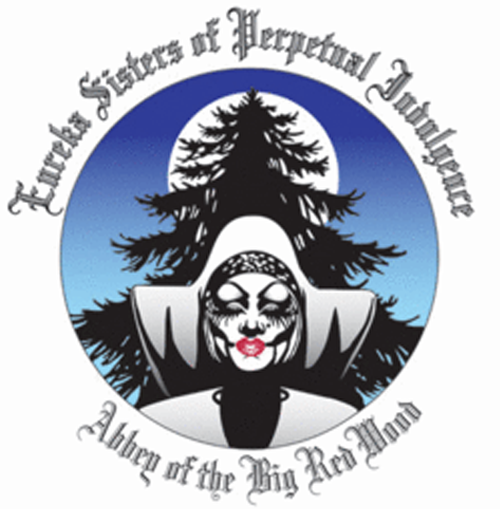 In the beginning the local queer townsfolk were hidden in the great green mist that hung over Humboldt County. Then, as tradition each year, on the great day of "Pride", the Great Spirit cleared the skies.  Out of the mist appeared the great messengers of joy, the Russian River Sisters of Perpetual Indulgence.  These nuns from afar came forth to bless the 2003 festival of Pride.
And the townsfolk were touched by the "calling" as well as the Sisters.  They beseeched the Russian River Order to take them under their veils and to teach the ways of community outreach and activism without shame.
So it was, that Sister Nova Nilla became their mother and gave birth in the city of Eureka to the 11 founding members who came to be known as the Eureka Sisters, Inc. Abbey of the Big Red Wood.
Since then, the Eureka Sisters have gone forth to spread joy to those who have none and expiate stigmatic guilt of all through community outreach, education, and a little naughtiness.
2006
The Abbey made their first appearance at the Humboldt State University's "Qross Qultural Queer Film Festival" on March 21. Our local Pride is in September and we have had Bat-N-Rouge Drag Saftball for three yoears, and have worked on many Bingos.
Sister Amanda Hugginkiss, Sister Bo D. Fatwa, Sister Desi Groan, Sister Lupita Phaheta Buffet, Sister Nida Salivation, Sister Fellata Immacualta, Sister Sinful Sin, Sister B'Ouncee, Sister Saturnalia, Sister Juana Little, Sister Domodora DeeFaerie Boys, Father Oh Mary! and Sister Fawn D'Amen founded our house.
What is your full name and when did you become fully professed?
My name is Sister Nova China and I took my Vows on Samhain Bingo, 2011
Who is, or who do you consider your Big Sister or Mother to be within the SPI organization?  
In our house we have 3 big sisters and a mother. Sister Fawn D'Amen is my Biggest Sister (judging solely by capacity: her heart) and Father Oh Mary! Is also my Big Sister (Judging with regards to Stature) and Sister Saturnalia is My Mother, she was also my big Sister as a Postulant (I got my name from her exclamation upon my birth!).
How has the relationship with your Big Sister/Mother influenced your Sister journey?
Sister Saturnalia has the most enchanting smile. It was her noble kindness which inspired my service. She is soft spoken and has other's needs held before her own. It is her devotion to relationship; friends, family, and stranger that serves as my landmark for who I want to be. It is her sincere authenticity that drives how I want to enact relationship. So, it was role-modeling and attentive support that were most valuable to me. Often my Big Sisters are there in my life, offering advice, a caring shoulder, or becoming a dominatrix to put me in my place. Sister Fawn and Father Oh Mary! have helped me to be able to look beyond circumstance and negotiate practical milestones.
How often does the Eureka house have general membership meetings, and how long do they usually last?
Eureka has a monthly meeting on the 3rd Sunday of every month at 9 am and they run between 2 and a half to 4 hours.
What do you find most challenging when attending a GM meeting? (explain)
Challenging is a euphemism right?  I think the most challenging thing about our General Membership meetings is getting and keeping everyone's attention and involvement. Our GMs have a lot of content.  We have become careful to stay on topic.  I am thankful for the wit and jabs that my Sisters punctuate the meetings with, since it offers moments of Gestalt clarity about our mission, Fun…we have to have it in the GM too.
Since the day you joined SPI, what are the biggest changes that you've noticed or witnessed in both the organization and yourself?
When I joined SPI, it seemed that the group was fund raising and business oriented with fun and pseudo-religious themes fulfilling some of the interpersonal needs of the group. Since that time, the house went through a couple of unexpected bumps and we have had to learn about ourselves as individuals and to respect and trust one another. We learned that the progress period toward membership is not just a way to challenge growth, but a time to foster this trust and supportive relationships. We have recently completely overhauled the processes of matriculation toward empowering the new Nun, and re-centering the onus of responsibility for the relationships on to the Big Sisters. Relationship has become the driving force of our process.
Since I have been involved, I have learned who I am. This organization provided me a place to learn about myself as a leader. In that regard, for the purpose of forging new relationships with the community, I took on a commission with the Humboldt County Human Rights Commission. It was the Sisters who are responsible for my meeting my Partner of 4 years. And it is the Sisters who have been a driving force in my academic career. I am earning a Bachelor's in Religious Studies and a Minor in Social Advocacy and Graduate in May. A great amount of the core work for my degree had to do with papers on the topic of the Sisters. I learned how to speak publicly and to take on advocacy work without shame.
If you could change anything about your journey to full profession, what would that be and why? 
I attended Conclave at Russian River as an Aspirant, I was White-veiled at Dolores Park on the 30th Anniversary and I took my Vows on Samhain two years ago… I have been included in much of the shaping policies since I was a Postulant when I reworked the bylaws with then Vice President Sister Fawn D'Amen. It took me four years for my journey to take place. So when I think what could have been better, I would have bought shoes that fit. I am serious about that.
As the vice president of the Eureka house, what are your expectations or goals of the house for 2013?
We are completely revising our infrastructure, process and finally codifying procedure. As I stated earlier, we are refocusing on our interpersonal relationships, and are changing our focus for Pride week in September. The Mistress of Novices is focusing on team building by fostering relationships between Postulants and Novices with Sponsoring Big Sisters who assist with the process of progression, which includes an intimate knowledge of the Novice Project being accomplished by their new Sisters.
What is the best part of being the Mistress of Novices for your house, and what would you say is your least favorite part?
The best part of being the Mistress of Novices is to be taking such a central role in helping others toward obtaining their goal of being a Nun. Supporting them in their work, to help them face difficulties and work things out between all the members is really a blessing to me. I just began the position in February and so I am learning the ropes. So far, the time requirement is a bit of a surprise, but not unmanageable, so I guess the hardest part is trying to figure out how to guide people through their own personal journeys. This is amazing work and worth every minute.
What are you currently most excited about? 
I am currently most excited about resurgence in interest to foster friendships within the order. A refocusing on spiritual needs and on caring. Fund raising is important and community is important, but this intimate interpersonal work between us is what keeps this going.
If you were asked to give advice to a mission house that was going through the process of becoming a fully professed house, what would that advice be?
Before you put on the paint, take off your masks. This work is real, the people we help need help; we help because we needed help. Be real. I cannot stress enough how our personal comfort zones get in the way of this work. If I cannot hug a homeless person, I need to hug a homeless person. If I cannot accept someone because they are lying about who they are, I need to assess why they would hide; what am I fighting against? Stigmatic Guilt. Challenge yourself to love the person inside.
What does being an SPI member mean to you, personally? 
When I was growing up I wanted to be a minister. I came out and lost my direction, lost that dream (I was a Fundamentalist Christian). I spent years trying to find work that would fulfill that vocation (my theology is such that a vocation is a calling from God/dess). As I live as a Sister, I find I am actually doing all of the work I would have done as a Minister. I am also becoming that minister, the degree, the work, the people, the help. This is what I was sent out in the world to do. We often explain that as Sisters we are a non-religious order. However, this is the most Spiritually Aware group of people I have ever encountered, where people and service to the community is above deity.
In one word, give your description of the SPI organization.
Sangha.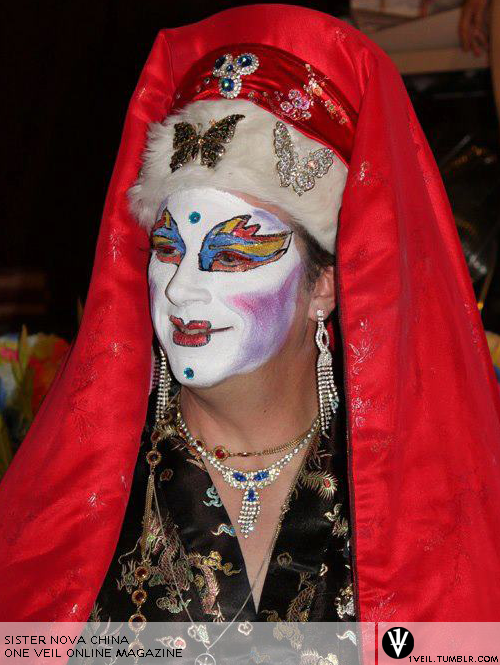 Dear Family and Friends,
Wow, April has slipped away much more quickly than I had hoped for.  We were very excited to be able to attend a wonderful Exequatur Ceremony with the beautiful Sisters of the Rising Sun in gorgeous Ft. Lauderdale, Florida.  We'll just say this…it was a memorable weekend.  (No comments from you, Sister Odora.)
The month of May is known to bring forth flowers; so, in keeping with that, One Veil is featuring a beautiful bouquet that is also known as the Eureka Sisters.  We are certain that you will find their interviews very interesting and enjoyable.
Down here in Orlando, we are preparing for our very first Red Dress Party, it's going to be held during Gay Days on May 31st, so it's a great way to come and support the Red Dress Event, AND mingle with all the visitors from around the world that fill Our City Beautiful for an entire week of frivolity.  If you'd like to attend Red Dress, reach out to any of the Orlando Sisters and we'll point you in the right direction.  Portland's very own Sister Spinna will be the DJ for this hot event, so if you have it within your means, please come down and support.
As always, we would like to thank all the contributors to One Veil that volunteer their time to create articles, recipes, interviews, etc.  We'd also like to invite you, the readers, to reach out to us about any type of article or story that you'd like to see in One Veil.  We're always looking for contributors, so give us a shout.
Until next month…
Be Well, Be Kind, Be YOU!
Sister T'Keela Mockingburd and Sister Isadora Knocking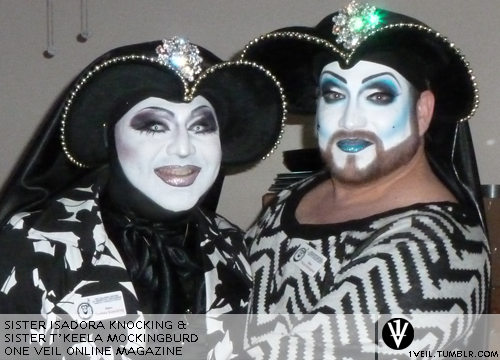 Please give me your Sister name and when you became fully professed. 
Father Oh Mary!    September 2007
When and how did you first hear of The Sisters of Perpetual Indulgence organization? 
My husband and I were invited to a bingo being given in association with Queer Humboldt and The Russian River Sisters of Perpetual Indulgence, up here in Eureka, CA.
What about this organization caused you to want to be involved in founding an Order of SPI in Eureka? 
Having been a theatrical costume designer, I thought I could help the new group with their habits. Once I went to one of the first meetings I was hooked and decided to put my money where my mouth is and step up and join! I have never looked back!
What do you think was the most challenging part of beginning the process of founding the Eureka Order?
Since we were a missionary house with our Mother, Sister Nova Nilla of the Russian River SPI 300 miles away, It was a bit challenging getting ourselves up and running, while still remaining within the SPI regulations. Nova Nilla was wonderful and always there on the phone if we needed her, but the distance did make a difference. We had a couple of stumbles, but we were really committed to establishing an order here in California's rural north. They don't call It Behind the Redwood Curtain for nothing!
Did the initial group of the Mission House encounter growing pains?  And what was learned from those pains?
We had some early members leave when they realized what a commitment was needed, but we were very grateful that they could be honest with us before they got in too deep and ended up disappointing us or themselves. We really tried to play to peoples different strengths before we asked them to push their boundaries. For such an isolated and rural environment we do have a CSU, Humboldt State and more artists per capita than any other American city our size, so we have had none of the backlash one might associate with the hinterlands! One woman whispered in my ear when we were out in Face promoting an event,"You're going to hell!", to which I replied, "Great! I guess I'll see you there". But that's all…
Being a founding member of your house, did you go through the process of first being a postulant or novice, or were you just considered a founding member and basically have the same rights as a fully professed sister?
We started as White Veil Novices and worked for about 6 or 7 months before we were elevated to FPM by the RRSPI. We did have to modify our protocol just a tad to be able to make decisions without any Black veils close by, but everything went through our Mother Nova Nilla.
How did the community react to the Sisters on the first manifestation in Eureka. 
With surprise and curiosity. There are quite a few transplants here from San Francisco who knew who the Sisters were and they went absolutely crazy! They really did make us more comfortable and helped promote our early events. To be absolutely honest, the first time I was scared shitless, for no reason it turned out!
Did you find any challenges when dealing with the community for the first time? If so, what were the challenges?
From the very beginning we made sure that we were building bridges between the different members of the community. We have no gay bars, and we had to reach out through our fundraisers that included everything from the new Senior Center, Montessori School and the Domestic Abuse Services, along with our LGBTIQ community. The area at large began to realize that we were here to help make this a better place to live for everyone. We are so isolated, if we had a large earthquake or tsunami, we will need to be able to depend on each other, not drive each other apart. I have never in my whole long life, and I have lived all over the world, met a community that is as generous and accepting as this one is. For this I say a great thank you and we are so lucky. I know that is not always the case believe me.
Now that your house has been established for quite some time, what is the biggest difference in your house now from when it was first founded (not speaking of the number of members, of course)? 
The biggest change in our house has been the age demographic. When we started we were almost all over 40 and now our new members are at the opposite end of the age spectrum with our youngest at 18 and our oldest at almost 70, and no I will not reveal her name!!!
If you could go back to the days of the order's initial founding, what changes would you make, if any? 
I wouldn't change a thing! It all, good and not so good, has been an incredible learning experience for me that I wouldn't trade for anything except maybe a 60 carat flawless pure white crystal clear diamond.
What advice would you give to a newly formed Mission House or any group that is considering the possibility of starting a house?
Patience is your friend. Treat each other with the respect and the common decency you would expect to be treated with. Not everyone knows their strengths right away and need a little more nurturing than others. Have FUN!!! Without fun there can be no joy.
Do you have just as much excitement about being a Sister now, as you did when you were assisting with the founding of your Order?
The Promulgating of Joy and the Expiating of Stigmatic Guilt is just as thrilling as ever, I just move a little slower! To see the looks on our fans faces when we show up is truly rewarding.
In one word (and one word only) please describe the Sisters of Perpetual Indulgence.
Fulfillment.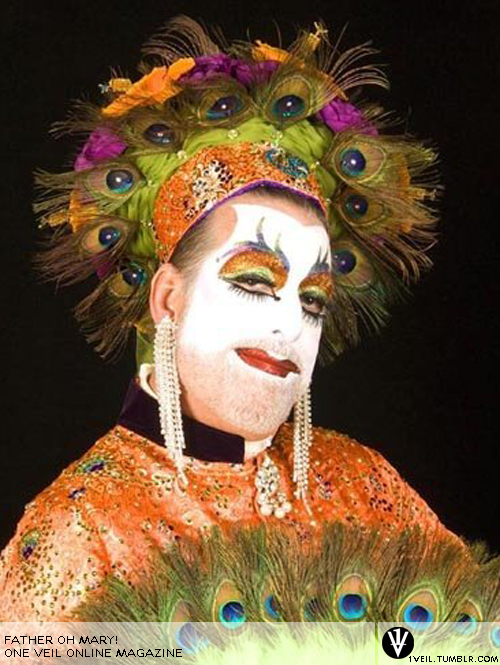 Could you please give me your name and tell me when you became a member of The Eureka Sisters of Perpetual Indulgence
My name is Novice Sister Hellyn Hyhyls, and my Aspirancy was granted on February 19nd 2012
What level are you currently at in your journey?
I am currently a Novice Sister of Perpetual Indulgence.
What is the reason that you chose to become a Sister of Perpetual Indulgence?
Having grown up in a somewhat rural community, I witnessed a great deal of Homophobia and Transphobia, which always seemed to be based in ignorance, due to a lack of LGBTQ oriented cultural exposure. As I grew, eventually Came Out, and further became aware of my own sexuality, I developed a desire to educate those whose cruelty was based in such ignorance, and help them to realize that there is nothing wrong with being different from what is the perceived mainstream society. Upon learning of the Sisters of Perpetual Indulgence, and becoming oriented with what they (we) do, I realized joining would not only provide an excellent opportunity to educate our community, but that it would also provide a wonderful opportunity for me to develop as a more compassionate and understanding human being.
What have you found to be most rewarding in this stage of your journey?During my interactions with our community, as well as our fellow Sisters, I have learned to broaden my mind and not shut out that which I had not previously had experience in (as I had so many times before). Being a product of such a religion influenced society, my mind had been programmed to accept binaries as a definite and frequently misunderstood such as a concept of 'right' and 'wrong;' however, as my journey has progressed, I have learned to ask 'why' first, and now find myself deconstructing said binaries as illogical fallacies.
What have you found to be the most challenging part of this process?
For me, the most challenging part of this process has been to learn to express my inner emotions. Without going into too much detail, I will say that I was very much raised to keep my emotions to myself, and always appear as strong as possible. However, having spent so much time working with the Sisters of Perpetual Indulgence, I've learned to express my inner emotions in ways I never have before. During moments of sadness, I find myself in the company of a true family of people who wish to help me. Meanwhile, in moments of Joy, I find myself with the confidence to share my happiness with the world, without fear of judgment. This would not have been possible without my having come to understand what it means to "Expiate Stigmatic Guilt."
Who has been your biggest influence along your path and explain how that person has influenced you.
While I have extreme difficulty deciding who has influenced me the most, I think I would have to say it was Sister Gaia T. Sister and I have come to develop an extremely powerful friendship, and she has helped me to open my eyes in ways that I had never before imagined. Gaia is one of the reasons I have come to question EVERYTHING that I have ever known to be an absolute; her influence has changed my view of the world, in the words of our dearest Mother (Father Oh Mary!), "To Chicken Salad from Chicken Shit." I am now more receptive to that which is foreign to me, and am open to new experiences.
In a short paragraph, please describe your first night of manifestation.
My first manifestation was on March 3rd 2012, for the Vagina Monologues, and it was completely unexpected. As I had to work until 6pm on that day, I did not think it possible for me to make the 6:30pm face call; so, I decided to spend my evening with Sister Juana Little, as she had not planned on manifesting that evening. However, as I was pulling up to her house, I could see that plans had been changed; I wished her a good evening, to which she replied by inviting me to go with her. She then proceeded to send me into her house, where she had instructed me to put on whatever I wanted. I ran out the door in my work boots, glitter smeared like war paint over my eyes, and a pink satin gown (straight out of a 1980's Dolly Parton concert). I looked like a hot mess, but the generosity my dear Sister showed me will forever live in my memory. The rest of the evening was absolutely amazing, and a complete whirlwind of glitter, laughter, vagina shaped soaps, and clit-aclysms.
What are you currently most excited about?
I am currently most excited about increasing my ability to fulfill my calling of rural community outreach. Recently, I was able to recruit Sister Mary Magdalaid Me to accompany me to Willow Creek, Ca (Population 1,710) for their presentation of the Vagina Monologues. While this was not only the first time this production had taken place in Willow Creek, it was also the first time a manifested Sister had ever set foot in this town. I want to increase manifestations like this, and really show the rural communities that they don't have to conform to anyone's preconceived ideas of who they should or shouldn't be.
Most Sisters experience, what we call, an "Ah-Ha" moment.  This is a moment where we realize that we are definitely where we need to be and that this path of Sisterhood is in alignment with who we are as a person.  Have you had that "Ah-Ha" moment yet, and if so, can you speak of it.
My "Ah-Ha" moment came last World AIDS Day; I was Chair Nun for last year's observance event. We began the evening with a showing of the film "Positive Youth," followed by a candle-light procession from the venue into the heart of Eureka's monthly art festival. As the procession began to walk, with me at its lead, I became overwhelmed with emotion and KNEW that this was the correct path. It was at that moment, as the rain was pouring down on us, soaking upwards on my chiffon gown, as we strode solemnly through the night, that I realized that Brian and Hellyn had become one, and all that truly mattered was the positive change we can bring into the world.
In one word, please describe The Sisters of Perpetual Indulgence.
Guardians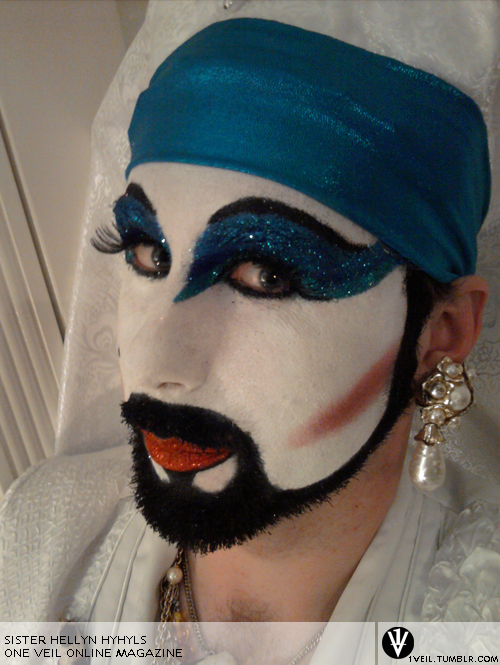 Hi Friends,
Coming up with ideas is by far the hardest part of writing for One Veil.  I paced around the convent, racking my brain for the right topic to discuss with you guys.  You've got lives; I don't want to waste your time – I want it to be good, you know? 
Suddenly, it hit me: I had found a really cool product that I wanted to try, but haven't yet.  I usually don't like to write about stuff I don't know much about, but this is just too cool to keep to myself.  I'm sure one of you will want to try it and when you do, let me know what you think – if I don't beat you to it first!
It's called Face Lace, created by artist Phyllis Cohen (who actually did makeup for DIVINE ::gay gasp::), and they are as simple as: peeling off, sticking on and showing OFF (as they put it).  Made from vinyl, these masks and face details are durable and can be re-used (either with their own adhesive or from something like spirit gum, which nearly every Sister has on hand).  The prices aren't too wild either, so splurge!  Buy yourself something nice – you've earned it!
Here are a few pics of some of what they have to offer (photos by Matthew Shave), but they have so much to choose from, I recommend checking out their website.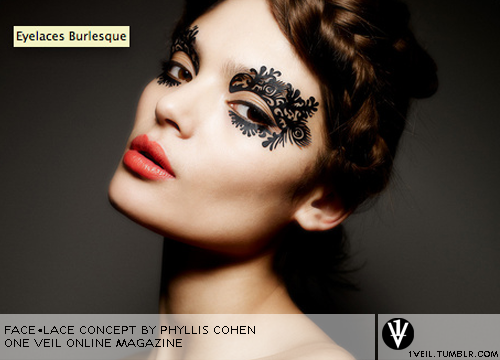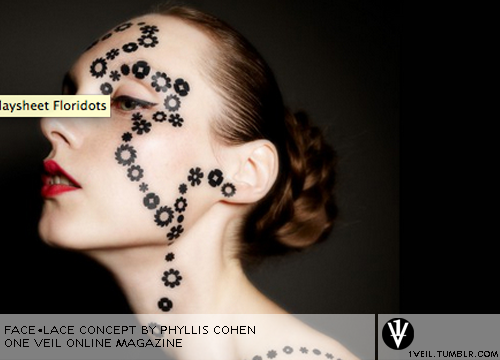 While they are a UK company, you can find their products all around the world so check them out, pick some up and tweet me a pic of you rocking your Face Lace! 
With Love, Light – and a Spliff,
Sister Indica
http://twitter.com/SisterIndica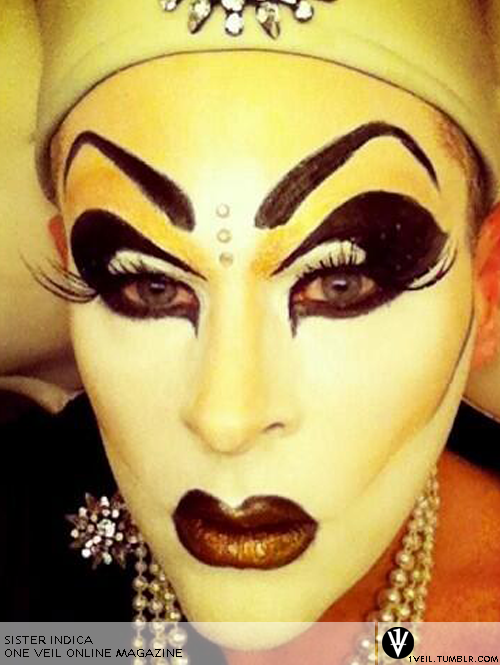 Bloody Mary is the title of a series of science fiction comic book limited series written by Garth Ennis and illustrated by Carlos Ezquerra. All of the series were published as part of DC Comics' Helix imprint. It is also the name of the main protagonist of the series
The first series, Bloody Mary, ran for four issues from October 1996 to January 1997. The second series, Bloody Mary: Lady Liberty, also ran for four issues, from September to December 1997.
Mary led a quiet life as a nun, secluded in her convent, until the war came…and everything changed. She renounced her life of peace…Now "Bloody" Mary is one of the best death-dealing commandos to ever see combat, caught in a future World War. With nothing left to lose, she becomes the ideal weapon; the only one who can take on suicidal missions in fascist Europe and the ruins of a cult-occupied Manhattan. Acclaimed, best-selling writer Garth Ennis ("Preacher", "War Story") and artist Carlos Ezquerra, co-creator of "Judge Dredd", bring this gritty future war story to life with their trademark mixture of explosive action and tense drama. Join up now!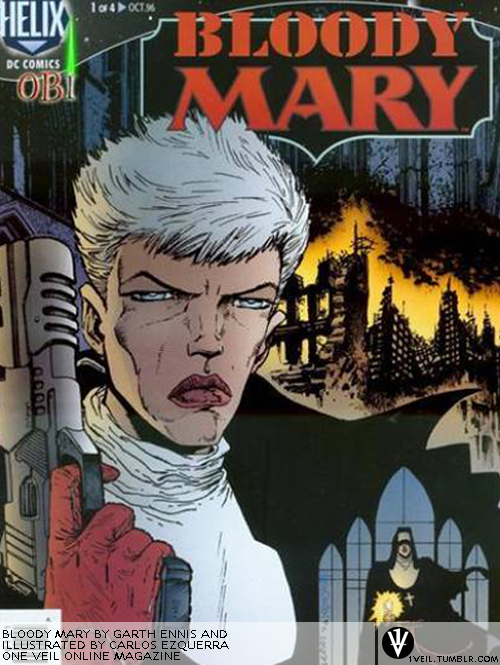 Both series are set in the year 2012, after many years of war between a fascistic (mainland) Europe versus the USA and England.
In the first series, the main character, Corporal "Bloody Mary" Malone, a highly trained American commando, is sent to Europe, along with a team and her friend, "the Major", to retrieve the Blood Dragon, a parasitic organism developed in a Himalayan research lab which makes its host almost immortal. The Blood Dragon is now in the hands of Mary's former sergeant, Anderton, who steals it to sell for the best price.
The second series, Bloody Mary: Lady Liberty deals with Achilles Seagal, a religious maniac who has generated a bigot cult which counts half a million people to take over New York City and is slaughtering thousands of innocent people. Mary Malone is sent, along with a team and the Major, to NYC to assassinate him.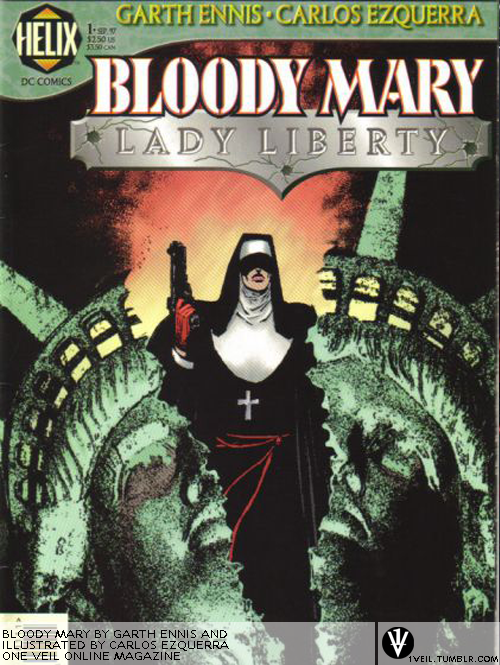 wikipedia.org